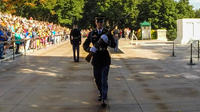 Arlington Cemetery Plus DC Monuments Tour
Full day Tours
Price $135.00
Explore Arlington National Cemetery and Washington DC's major monuments on this 8 hour guided tour bus and walking tour. Visit the grave of John F Kennedy and his Eternal Flame. Witness the Changing of the Guard at the Tomb of the Unknown Soldiers. Your expert guide will personally guide you through all the major sights in Washington, DC including the Lincoln, Franklin D. Roosevelt, Dr Martin Luther King JR, World War II, Iwo Jima, Air Force, Korean War and Vietnam War Memorials, with fun and informative narrative throughout the day.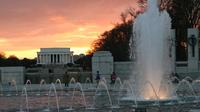 Washington DC Legend Daytime Comprehensive Tour
Full day Tours
Price $75.00
See Washington D.C.'s most memorable sites with knowledgable and passionate local guides! This full-day tour covers a comprehensive look at the intricate history of D.C. and visits to the most iconic landmarks and monuments in the city. The tour includes a guided visit to Arlington Cemetery, Lincoln Memorial, Vietnam Memorial, Korean War Memorial, FDR Memorial, Jefferson Memorial, the World War II Memorial, Ford's Theater, Iwo Jima Memorial, Airforce Memorial, Martin Luther King, Jr., National Memorial, and the Holocaust Memorial Museum.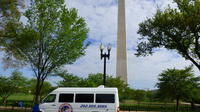 Dynamite Day Tour: Small Group DC Bus Tour
Full day Tours
Price $75.00
Discover the major points of interest in Washington, DC on this guided, 7-hour, sightseeing tour. This small-group bus tour visits many of the famous monuments and memorials, like the White House, the Washington Monument, the National Mall, the Martin Luther King, Jr. Memorial, and many other popular locations.'A number of lunch options (own expense) is available.